The winter months in the Rocky Mountains can offer amazing beauty or brutal winds and cold. My goal is to make sure you have a great experience but to also prepare you for the kind of conditions you can expect. Please be aware that the picture below is a common view we get in the moutains; a cloudy wintery day. Conditions like this offer virtually no views of the peaks, but are usually great for wildlife viewing and wildlife photo tours, winter nature tours, and snowshoeing that isn't sightseeing based. These conditions happen 3-4 days a week depending on weather fronts.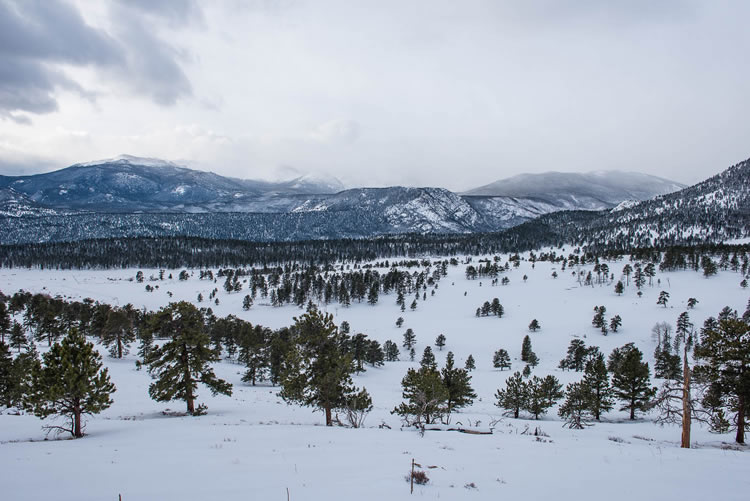 For reference the image top of the page is the same area on an beautiful winter day with great sunrise light. If your main goals are landscape photography or you are only interested in mountain view sightseeing we may need to plan your trip to be flexible to maybe move your day if possible. If you think you would be highly disappointed getting a cloudy wintery day please let me know while booking your tour so we can plan accordingly.
---
Weather Resources to Plan Your Trip
For Weather Resources please note that almost all weather forecast sites and apps will give you the weather for the town of Estes Park, but not for Rocky Mountain National Park which can be drastically different.
The best resources are Windy.com HRRR Model for cloud cover and combined forecast models, and the National Weather Service forecast site www.forecast.weather.gov . Below are links for areas in the National Park that will help you plan for how to dress and what to expect. Be sure you scroll down below the map area and click on the Hourly Weather Forecast to see a graphical forecast for the next 2 days. Look for temps and wind chill, skycover percent, and precip timing.
Peak Views - For Sightseeing and Landscape Photos (NOTE: Look at the Skycover line on the hourly forecast that will tell us if the peaks should be clear or clouded. Cloud Cover amounts over 70% or Humidity levels over 65% usually mean a cloudy day. We will not be this high so you can be shocked by the temps and wind chills but we will be in the areas linked further below like Moraine Park to see the peaks. : http://forecast.weather.gov/MapClick.php?lon=-105.6855189208984&lat=40.29692319958349#.WHlnufkrL9Z
Moraine Park - Common Area for Winter Wildlife Safaris:
http://forecast.weather.gov/MapClick.php?lat=40.35857944937875&lon=-105.58685306925327#.WHllTvkrL9Z
Bear Lake Area - Snowshoeing, Snowshoe Photo locations:
http://forecast.weather.gov/MapClick.php?lon=-105.65050054016066&lat=40.31083851530374#.WHlmwvkrL9Y
Yellow Wood Guiding is Authorized by the National Park Service, Department of Interior to conduct services in Rocky Mountain National Park. Fees for service are strictly for educational nature experiences and photography instruction, not transportation.