Estes Park Snowshoeing Tours & Winter Hikes
Snowshoes, Gaiters & Hiking Poles Prodived
Yellow Wood Guiding offers private Estes Park Guided Tours of Rocky Mountain National Park in Estes Park, Colorado.
---
Rocky Mountain National Park really shines in the winter time (if the weather is clear) and one of the best ways to experience everything Rocky's winter has to offer is on a Snowshoeing Tour. If you can hike and jog downhill you can snowshoe! If you can't jog slowly downhill, you should consider one of our winter driving tours. Once at the trail head we'll hike/snowshoe the trails to explore a world under a blanket of powder.
It's important to note we never see large wildlife while snowshoeing, but we will see tracks of Pine Squirrels and Snowshoe Hares.
Snowshoeing Tours are best in the mornings, and on Friday - Sunday Only available in the mornings due to limited parking. Snowshoeing is dependent on having 2 feet of soft snow. If conditions are poor we will have hard pack ice on the trails where we can winter hike but not snowshoe. In the last few years late December - February have been our only good snowshoeing months. If you don't have much interest heading off trail into the soft snow, instead using poles and ice cleats on a Winter Hike is better option as the trails are often hard packed.
Snowshoeing Dec - Feb | Winter Hiking March - May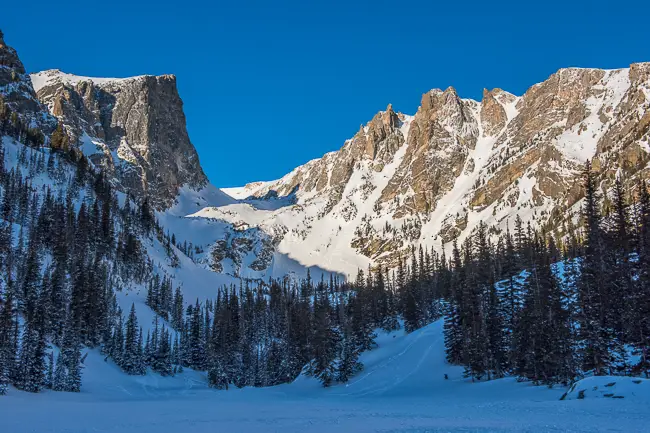 3.5 Hour Snowshoe / Hike - Beginners and up
Great for first time snowshoers to get out on the snow and do more than just follow the trail if you want. Head uphill 1 mile to Nymph Lake and Dream Lake and then return heading off trail in search of soft snow, animal tracks, and optional downhill adventure.
Book Now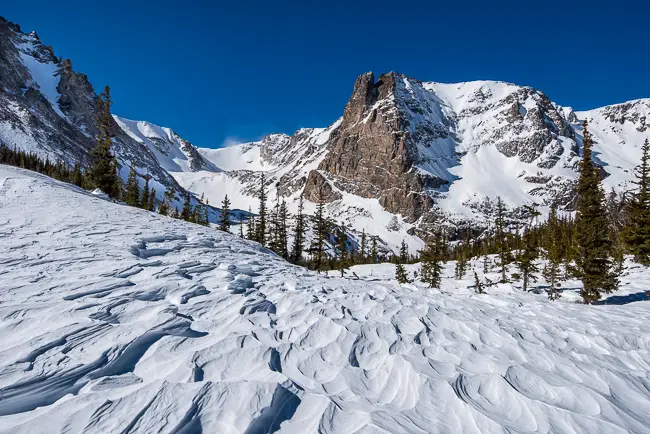 6 or 8 hour Snowshoe / Winter Hike
Explore deeper into Rocky Mountain National Park, to destinations like Mills Lake, The Loch, Two Rivers Lake or farther on a 5-10 mile round trip snowshoe hike. Best for hikers who want more of a challenge in distance.
Book Now
---
Snowshoeing Season is over and Winter Hiking will stretch into May.
---
Winter Weather
Winter Weather note: it is far more likely to be cloudy, windy, and foggy than being clear and calm in the winter months. Most mornings the temps are about 0-15 degrees and winds are usually 25mph at Dream Lake. Click Here for Winter Weather Info page for complete details on how bad or nice the weather can be in Rocky.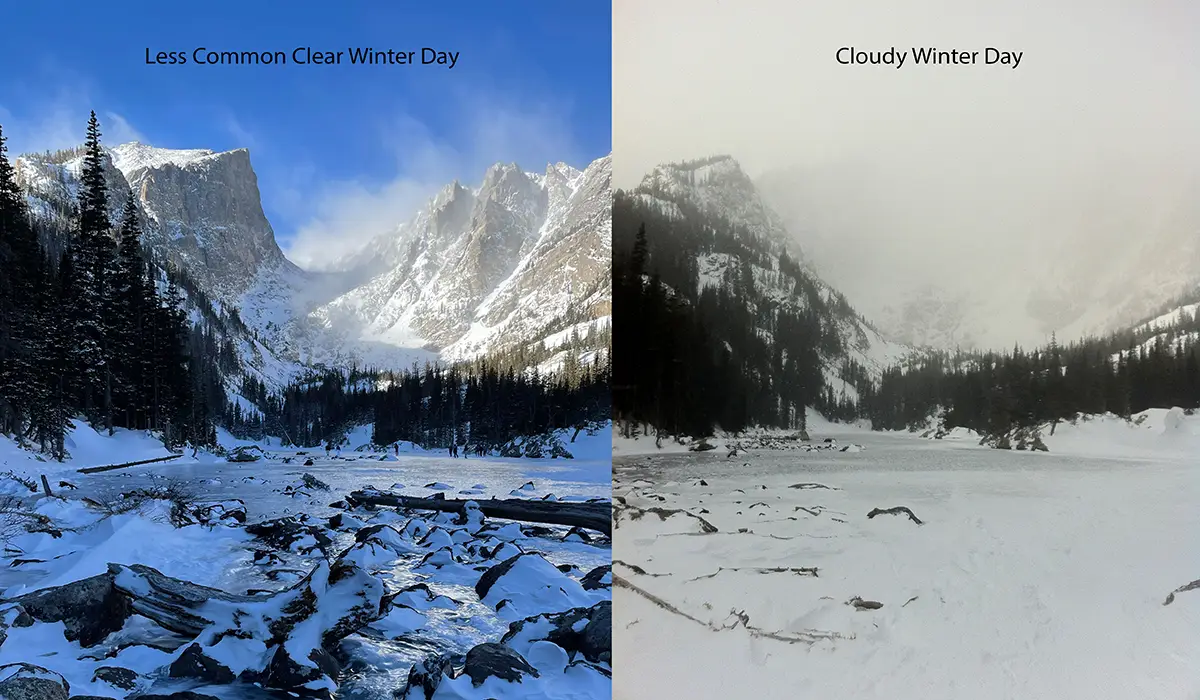 ---
3.5 Hour Snowshoeing Tour | Great for Beginners
On a 3.5 hour Estes Park Snowshoeing Tour we can head up to some beautiful locations going up to two miles round trip. Some days we can't see the mountains due to the cloud layers but the snowshoeing itself can be exceptionally fun. Going up is generally slow and depends on your group's fitness level, we take a number of rest breaks to catch our breath. Depending on the snow conditions the trail can become narrow and at times angled on steeper hillsides, this does require some athletic-ness and being open to jog down hills to avoid falling. The slower you go down hill the more likely you fall. This kind of trip is great for first time snowshoers and should only be avoided by folks with some kind of heart or breathing condition, or folks with ankle, knee, or back issues.
On the way down we can use side trails and head off trail to get the full experience of snowshoeing in deep snow. If we have just the right snow conditions on the way down we can also take some slides sitting on your rear end as you slide down a hillside. We will also do some downhill jogging and in a few spots if you feel adventurous do some snowshoe sliding while standing for a foot or two on the steeper declines.
---
6 & 8 Hour Snowshoeing Hike
On a 6 or 8 hour snowshoeing tour we can go much farther, up to 3 or 4 miles or more one way to see some of the most amazing winter landscapes in North America. For those options check out the Hiking Tour page for more details on the trails. These trips are recommend for folks in good physical shape that walk or hike on a regular basis. Longer trips offer more off trail hiking when we head downhill, but there are generally fewer if any sliding opportunities.
---
Winter Tour Fees Mid October - April
(Total Is Shown - NOT Per Person, Rate Is The Same For 1 Or 2 Guests)
Guests
1 or 2
3
4
3.5 Hour Tour Total (Most Recommended)
$225
$260
$295
6 Hour Tour Total
$400
$445
$490
8 Hour Tour Total
$525
$585
$645
---
Rocky Mountain National Park Snowshoeing Tour Details
Tour Details: All tours are private so the only guests will be the people you invite. Snowshoes, poles, and gaiters are included with the tour.

Tours are limited to only 4 guests so you get personal attention. We only have 4 seats, and 4 sets of excellent gear. Yellow Wood Guiding strives to provide quality experiences for all of our guests.

Tours are designed for adults and have a strict age 12 and up policy. Kids 14 and over enjoy the experience most due to the science being presented at a high school and college level. If your kids are under 16 please read the Safari FAQ to make sure this tour is for your family.

Be sure to dress warm and in layers, most days feature 20-30mph winds and very chilly wind chills as we go in and out of the forest to the openings of the lakes. Temperatures are often from 0 to 25 degrees F, but wind chills can make them go down well below -20. Ankle high winter or hiking boots are also recommended. Avoid cotton socks and jeans as they absorb water. Warm people have more fun.

Sunscreen, water and snacks are provided for all guests.

*Not included: Park entrance fees are $30 Day pass per car, $35 Week Pass per car or $80 for an annual pass. If you have a Senior, NPS Annual, or US Veterans and Active Duty Pass it is free as long as you have your pass and ID. I do not charge for a pass, as many folks already have one.

* $100 Non-refundable Deposit paid via Venmo required for folks staying outside of Estes Park. Over the years a number of folks have cancelled or no-showed due to snow on the drive up from Denver or Boulder, but we could have easily gone if they stayed in Estes Park. I highly recommend folks stay in Estes Park.
Yellow Wood Guiding is Authorized by the National Park Service, Department of Interior to conduct services in Rocky Mountain National Park. Fees for service are strictly for educational nature experiences and photography instruction, not transportation.