Rocky Mountain National Park Photo Tours
Estes Park Photography Tours

Yellow Wood Guiding offers private Estes Park Photo Tours of Rocky Mountain National Park from Estes Park..
---
During your Estes Park Photo Tour our guide will get you to the right place at the right time, read the weather and the light, and make sure you learn how to set the best settings to get great shots here in Rocky Mountain National Park today and around the world in the future.
On our Rocky Mountain National Park Photography Tours you can learn the skills of landscape, nature, macro, and wildlife photography on your own private Photo Tour. Yellow Wood Guiding tours are focused on giving our clients amazing experiences. Unlike most other Photo Tour services, I will only grab my camera if it is absolutely amazing and I know you will get your shot first. While on tour you have access to our professional photo equipment, long lenses, filters, and tripods if needed.
Improve your photography in Rocky Mountain National Park with a professional photographer and guide by your side.
Beginners, you get a private photography lesson in the beautiful Rocky Mountains from a professional photographer who has focused on teaching for 20 years.
Pros and Experienced Shooters, we can tailor a trip to help get the shots you want and you will likely learn advanced technique and skills along the way.
Check out the seasonal Photo Tours offers below to find the best experience for you and your interests.
Landscape Gallery Wildlife Gallery
Summer Estes Park Photo Tours
---
Fall Rocky Mountain National Park Park Photo Tours
---
Winter & Spring Estes Park Photo Tours
---
Beginner Photographers | Learn to use your camera
Beginners, learn how to use your camera to its fullest potential and I'll help get you off of automatic mode. Having taught 3,000+ beginners I'm very experienced in teaching you the basics in a simple understandable manner so you start seeing huge improvements within the first hour of the tour. Generally a 4 or 6 hour tour is best for beginners. Most folks burn out at 4 hours, while others can keep going well past 6. The best length for you depends on which one of of those descriptions is most like you.
I'm experienced teaching folks with all makes and models of DSLR and Mirrorless cameras including: Nikon, Canon, Sony, Olympus, and a variety of point and shoot cameras and even phones. I've had clients tell me they learned more on a single tour than on week long photo workshops.
First we will start by making sure your camera is set up to capture the best pictures possible. Then learn aspects of photography such as composition, light metering, reading a histogram, and some secrets that will improve every shot you take. If you want to make the jump from "point and shoot"  to the world of "f stops" and "shutter speed," this is the perfect opportunity for you. Generally Aperture Priority Mode with selectable auto-focus is the recommended method that 98% of professionals use and we will teach you how to use those exact settings.
---
Experienced Photographers | Custom Photo Tours
Experienced photographers, we can plan a special trip to try to catch amazing shots, refine and advance your technique, customize your camera settings, and talk about ways to improve your shots. You may want to consider an 8 hour Split day spending 4 hours in the morning and evening to focus on the best light of the day. We can discuss advanced skills like hyper-focal distance, prime apertures for sharpness, live view focusing, focus stacking set up, long lens techniques and more. We can also make a custom trip to hit some really amazing locations that can take years to find.
---
Estes Park Photo Tour Seasonal Highlight Options
Click the season you are planning your Estes Park Photo Tour to see options of what we can shoot during that time of year.

---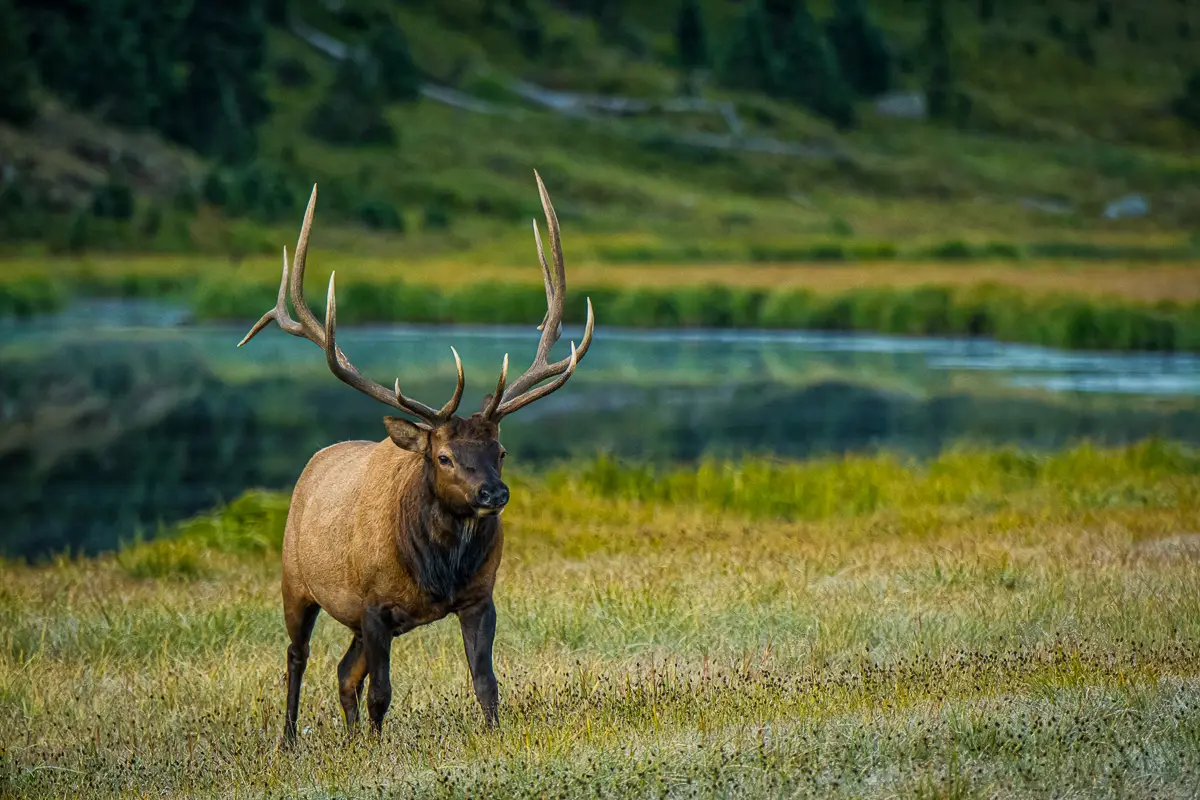 Pro Nikon Camera Gear Provided
You don't have a camera or a long lens, don't worry, you can use ours! By using our professional digital cameras with a selection of lenses from the 14mm-24mm f2.8 Ultra-wide angle, you can get shots of the majestic mountain vistas, to the 600mm f4 with a 1.4 teleconverter equaling 840mm (17x) zoom in on a Bull Elk's eye lashes. Keep in mind gear of this level requires a desire to learn how to use it, they have no automatic settings. I also have 5 tripods in the vehicle at all times incase you need to borrow one during the tour. Click below to see the gear available to use included with the price of tour.
Yellow Wood Guiding's Photo Gear
Before your Photo Safari be sure to visit Yellow Wood Guding's Photo Training Videos so you are prepared for a great day of photography in Rocky Mountain National Park.
Even though this is a photographic tour you will still learn tons of interesting facts and gain a new respect for this amazing environment.
---
Summer Tour Fees May - Early October
(Total Is Shown - NOT Per Person, Rate Is The Same For 1 Or 2 Guests)
Guests
1 or 2
3 or 4
4 Hour Tour Total (Most Recommended)
$325
$425
6 Hour Tour Total
$525
$675
8 Hour Tour Total
$700
$900
---
Winter Tour Fees Mid October - April
(Total Is Shown - NOT Per Person, Rate Is The Same For 1 Or 2 Guests)
Guests
1 or 2
3 or 4
3.5 Hour Tour Total (Most Recommended)
$245
$325
6 Hour Tour Total
$445
$525
8 Hour Tour Total
$575
$655