Winter Wildlife Tours
Rocky Mountain National Park & Estes Park Tours
Learn and See More Winter Rocky Mountain Wildlife
---
The Winter months in Rocky Mountain National Park offer plenty of great wildlife sightings on 3.5 hour early morning and evening Wildlife Tours, with many encounters occurring just outside the car window. If you like Netflix, Discovery Channel or BBC nature specials you will absolutely love a Wildlife Tour. Beyond looking for and observing animals, we'll point out their behavior, ecology, adaptations to survive the winter, and other really cool details.
Depending on the time of year we may find more wildlife around the town and suburban areas of the Estes Park region and not as much in the National Park, especially in late October through November, and again in March and April.
Winter Weather Info Check Availability

Wildlife Gallery Book Now
---
Winter Animals You Can Expect to See
Winter Wildlife Tours involve a good bit of driving throughout the national park and the town of Estes Park, making many stops along the way, and generally only a few minor walks as we explore the park for animals. On an average winter day we will find Elk, Mule Deer, Pine Squirrels, Wild Turkey, Prairie Dogs (on nice days), Birds of Prey like Red tailed Hawks, Bald and Golden Eagles some days and most winter days we find Bighorn Sheep ewes and lambs and the occasional great sighting of Bighorn Sheep Rams. Some days we see Coyotes, but they have become more rare sightings over the years.
Moose are rare winter sightings, seen only about 2% of winter tours in the National Park from October until mid April. Starting in mid April the chances of moose sightings increases to 20-35%, because the willow and currant bush buds develop around April 15th. The only slight Moose option during the winter months if road conditions are perfect and you are willing to likely not see Elk, Mule Deer, and Turkeys, is to travel outside of Estes Park to have a 20% chance for Moose sightings.

Tours are only offered in the early morning and late afternoons to maximize sightings, few animals are out in the mid day. All tours will start or end in the dark to maximize large mammal sightings. On average the only difference between a morning and afternoon tour is elk are often closer to the road in the mornings, but not always. Morning tours do run the risk of the roads not being completely plowed if it snowed the night before. The larger Rocky winter species don't eat snow, they migrate to much lower areas with exposed grass so we won't be snowshoeing for animal sightings.
---
Winter Wildlife Estes Park Tours | Mid October - April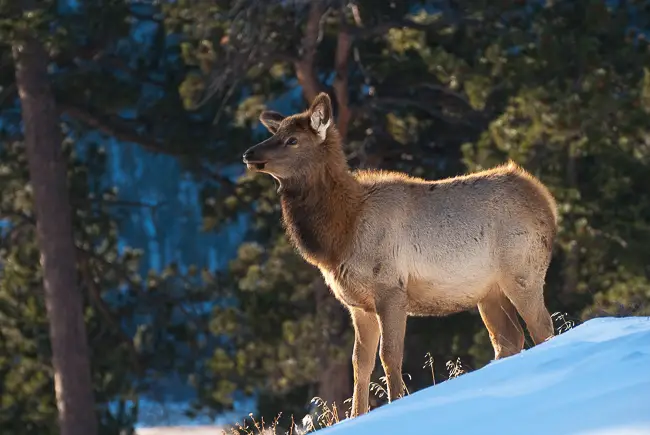 3.5 Hr Winter Wildlife Tour
Sunrise and Sunset Winter Wildlife Tours of Rocky Mountain National Park. This is a road based tour with many stops. Winter highlights include Elk, Mule Deer, and 80% of the time Bighorn Sheep, sometimes right out the window. Winter Wildlife Tours are packed full of Wildlife Biology, facts and local information. All tours start or end in the dark to maximize sightings and start times account for drive time so you get the best sighting. Each Guest is provided world-class 10x Swarovski Binoculars, and for the most distant sightings we set up 30-60x Kowa Spotting Scopes.
Wildlife Chances
Book Now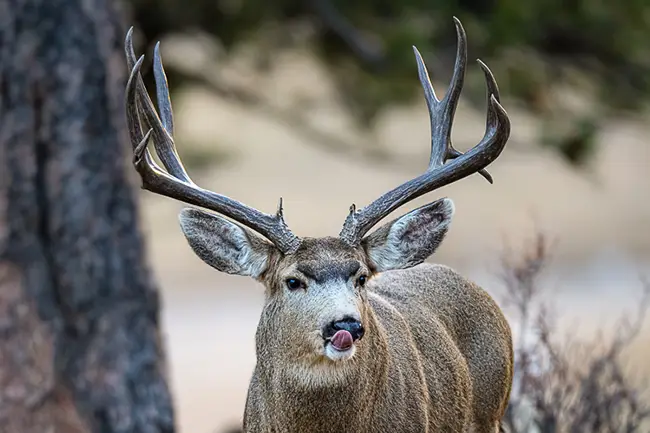 6 & 8 Hr Winter Wildlife Tour
On a 6 & 8 Hour Winter Rocky Mountain National Park Wildlife Tour we will split the day into early morning and late evening sessions. If road conditions are safe, a 6 Hour Split Day tour would allow us great Elk sightings, Bighorn Sheep, and the chance to take the 20% Moose Gamble all in a single day trip. On an 8 hour Wildlife Tour we could see nearly all of the major wildlife in the Rocky Mountain region, and spend time in the Bear Lake area which has views but few animals. Each guest is provided Swarovski Binoculars and we set up Kowa Spotting Scopes.
Wildlife Chances
Book Now
---
Winter 20% Moose Gamble Option
Moose are rather rare sightings in the winter months in Rocky Mountain National Park with only a 2% chance most of the winter. Starting in April the chance of Moose sightings in the park increases to about 35%, and even more in May.
October to March there is an area about 30 minutes to 1 hour drive from Estes Park where winter moose sighting chances are more like 20% instead of 2% in the park. This option requires perfect road conditions with no fresh snow and ice to be safe, a very early morning start, or a later evening start, and we will likely not see any Elk, Mule Deer and Turkey. It would just be Bighorn Sheep and a slight chance of moose if you select this option.
In Mid April and May sighitngs of Moose in Rocky Mountain National Park increases to about 35% and grows every week.
In the summer months moose sightings are a near guarantee on an Estes Park Wildlife Tour, but in the winter with lower chances I often say if you can't come back in the summer, and the chance to see a moose would fill your soul than maybe think about taking the Winter 20% Moose Gamble Option. Remember moose lose their antlers in late Janurary.
---
Estes Park Winter Wildlife Tours | Seasonal Highlights
November is prime time for the Mule Deer rut, Bighorn Sheep and Elk are very active and it snows very little. With some luck we can also find Coyote. Late October through early December is the Bighorn Sheep rut with rams smashing into each other at 35 mph, and if you're lucky you can hear the echo of their collisions over a mile away.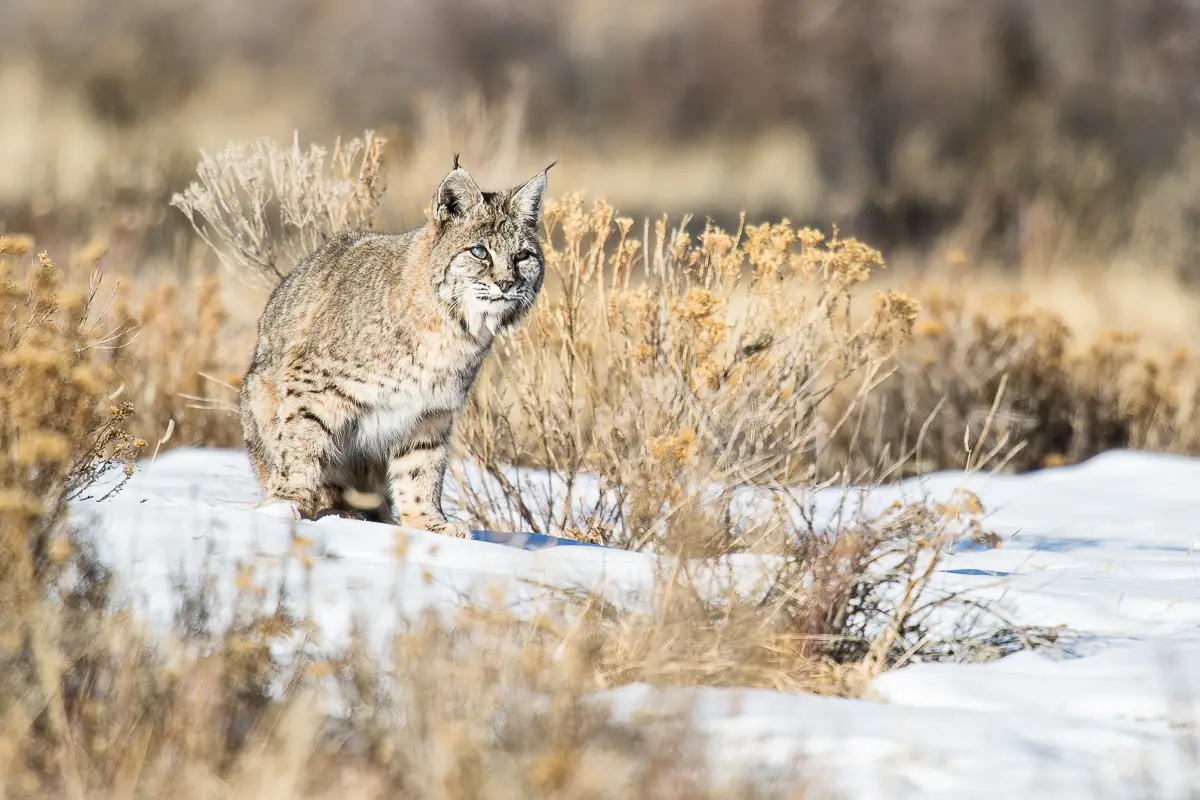 The New Year brings more snow and investigating animal tracks made by snowshoe hares, bobcats, elk, deer, sheep, mice, pine squirrels, birds, and coyote can be great fun. Each track tells the story of survival in the snow. Wildlife is still readily seen, especially the elk, turkey, and deer. Late February through April is prime time for big horn sheep as the female and lamb bands come down to the lower hills almost everyday. If you are lucky the big horn rams will show up as well.
March is the beginning of Spring and some years we are lucky to find nesting Great Horned Owls, Bighorn Sheep ewe bands become more visible, coyotes are hunting in the meadows and close the end of March the hibernating animals like ground squirrels, chipmunks, and marmots start waking up. March is also Spring Gobbling season and we often see Wild Turkey flocks and sometimes fanning males. Around mid-March all of the Elk and Mule Deer have lost their antlers and in April they start shedding their heavy winter coats.
Winter is also a great time to see the various bird species that spend winter with us, nothing warms your cold toes like the song of a flock of Mountain Chickadees. Birds like Magpies, Stellar's Jays, Clark's Nutcrackers, Crows, and Ravens are all out showing just how smart they really are surviving the winter and having fun in the snow. We also find Red-tailed Hawks, rarely Golden Eagles, and if Lake Estes has open water Bald Eagles.
Wildlife Tours are as much about having great sightings as it is to learn about wildlife and Rocky Mountain National Park. We will talk about how they live, communicate, what they eat, learn about funny and meaningful body langauge they use, and some great random facts you will love.
---
How Long of a Tour & Morning vs Evening?
For most Winter Wildlife Tours a 3.5 hour trip is recommend. On average we see the same species of animals on both morning and evening tours. Some mornings offer closer Elk encounters, but that is not always the case. It often comes down to the weather and luck. Morning Winter Wildlife Tours increase the chance of fresh snow overnight limiting park access and parking until they are plowed. All afternoon tours are 3.5 hours. 6 and 8 hour tours are best split between the morning and evening roughly 4 hours each increasing the number of species we can sight, or increase quality sightings of larger species like Elk, Mule Deer, and Bighorn Sheep.
---
Winter Tour Fees Mid October - April
(Total Is Shown - NOT Per Person, Rate Is The Same For 1 Or 2 Guests)
Guests
1 or 2
3 or 4
3.5 Hour Tour Total (Most Recommended)
$245
$325
6 Hour Tour Total
$445
$525
8 Hour Tour Total
$575
$655